Total Rush Bike Fit - Ride farther, faster and with greater comfort with a bike fit from Total Rush
Online Booking Now available!
One of the many benefits of Total Rush is the Body Geometry Bike Fitting & Guru Bike Fit services we offer: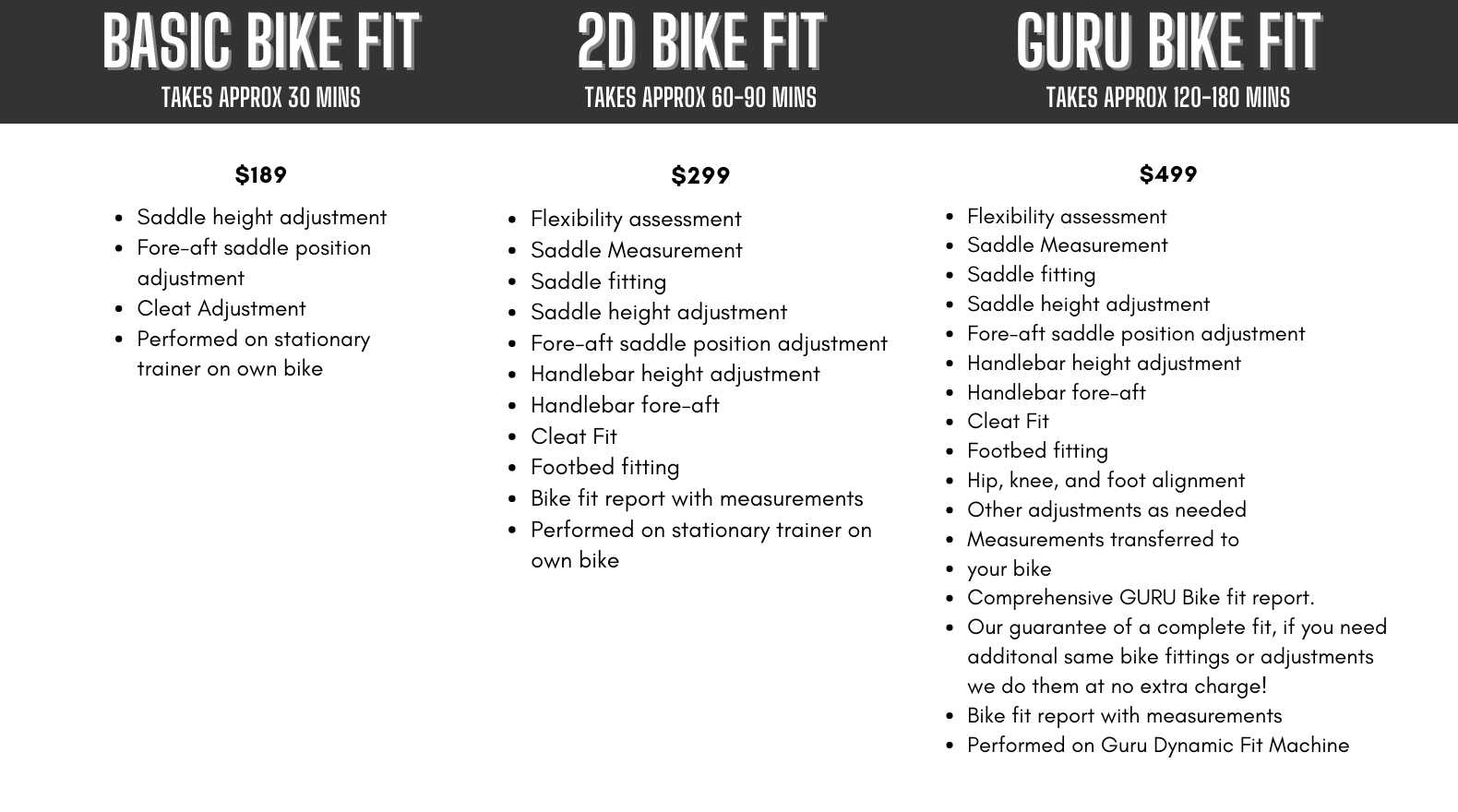 Are you looking for an edge over your competition? Do you want to improve your performance on the bike? Do you live in Melbourne? If so, consider getting a bike fit from Total Rush Richmond.
To start, let's talk about the basics. A bike fit is a process that involves taking precise measurements of the rider's body and bike. From there, adjustments can be made to the bike to ensure that the rider is comfortable and in the optimal position for performance. These adjustments include saddle height, handlebar position, and cleat placement.
Having a bike fit done is critical for cyclists of all levels. Whether you are a beginner or an experienced rider, a bike fit can help you to ride more efficiently and reduce the chance of injury. That's because a properly fitted bike will put you in the optimal position to generate power and maximize your performance.
A well-fitting bike can also help you to stay comfortable while riding. This is especially important for long-distance rides, where riders may be on the bike for hours at a time. A bike fit can help to reduce fatigue by placing the rider in a position that is comfortable and efficient.
At Total Rush Richmond, our certified bike fitters have years of experience in helping riders of all levels to find the perfect fit for their bike, which has been enhanced through participation in the Specialized Body Geometry Fit Certification Program, as well as the GURU Academy and has been complemented with hundreds of hours of practical experience. Our bike fitters are all bike riders too, so you can be assured when you describe your situation they will understand your needs.
Our bike fitters will take precise measurements of your body and bike, and then make adjustments to ensure that you are in the optimal position for performance and comfort. We also have different styles of fit to suit your riding level and budget.
A bike fit from Total Rush Richmond also includes a wide range of other services. We will help you to choose the right components for your bike and make sure that all of your components are properly installed. We will also provide you with advice on nutrition, hydration, and power training.
Finally, Total Rush Richmond provides bike fitting services in a safe and comfortable environment. Our fitters are friendly and knowledgeable, and they will make sure that you are comfortable throughout the entire process.
So, if you're looking to get the most out of your cycling experience, consider getting a bike fit from Total Rush Richmond. Our certified fitters will help you to find the perfect fit for your bike. Get in touch with us today to learn more about our bike fitting services, or book online now using the above link.
Have questions? Send us an e-mail - [email protected]
Other fitting services we offer: