The Specialized Rockhopper Hardtail MTB is a popular mountain bike that offers a great combination of durability, performance, and affordability.
This bike is built with a lightweight aluminum frame that can handle rough terrain and is designed to provide a comfortable ride. The Rockhopper from Specialized is available in both men's and women's versions, and comes in a range of sizes to fit riders of all heights.
One of the standout features of the Rockhopper is its suspension system, which consists of a front suspension fork that provides up to 100mm of travel. This helps to absorb shocks and bumps while riding, making it easier to maintain control and ride in comfort.
The Rockhopper is also equipped with a range of high-quality components that are designed to provide reliable performance. It comes with a Shimano drivetrain that provides smooth and precise shifting, as well as hydraulic disc brakes that offer excellent stopping power in all conditions.
Another great feature of the Rockhopper is its versatility. It comes in different wheel sizes including 26inch, 27.5inch & 29 inch. It is designed to handle a wide range of terrain, from smooth pavement to rough trails and everything in between. The bike's aggressive geometry and wide tires make it an excellent choice for off-road riding, while its lightweight design makes it easy to handle on the road.
Overall, the Specialized Rockhopper Hardtail MTB is an excellent choice for anyone looking for a high-quality mountain bike that delivers performance, durability, and value. With its lightweight design, dependable components, and versatile capabilities, it's no wonder that this bike is a favourite among riders of all levels.
With the goal of making sure that the Specialized Rockhopper offers both the best fit and best performance for every person, no matter their measure, each Rockhopper frame size is paired with the optimal wheel size. The result is a Hardtail MTB to fit every rider and the assurance that every Rockhopper is rolling on the best-handling wheel for its frame size.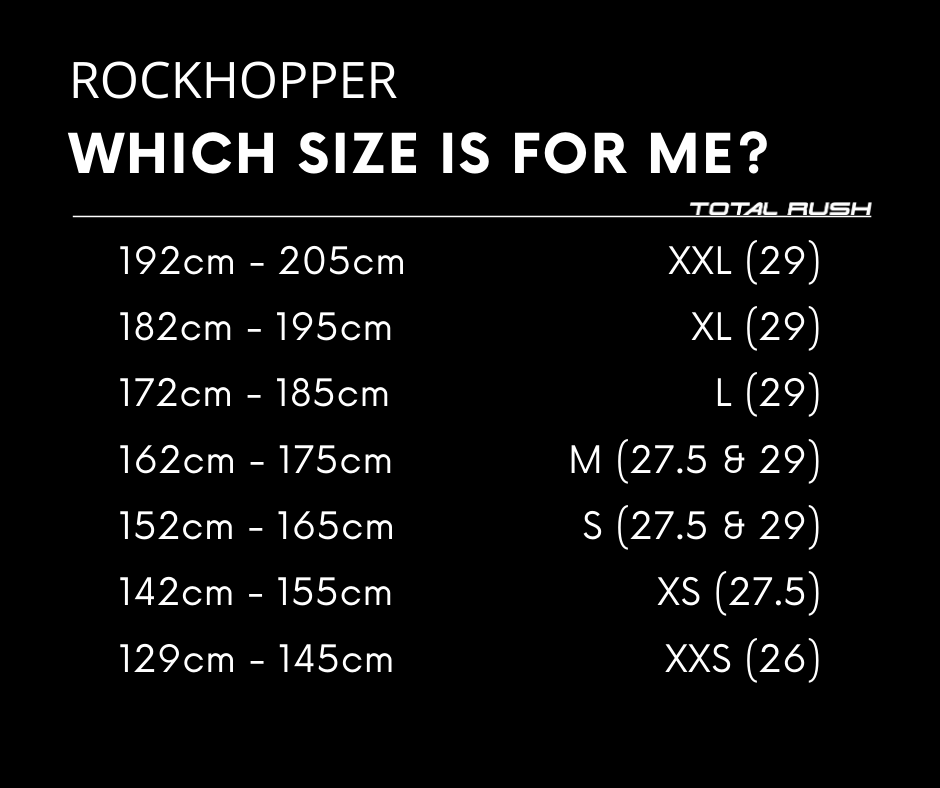 Which Rockhopper wheel size is for you? 
Rockhopper 26"
Only available in XXS, this is for the young ones that are ready to shred on a bigger bike than the traditional "kid's" bike sizes go to. 
Rockhopper 27.5"
Perfect for shorter riders and those looking for a lively ride, 27.5" wheels are more maneuverable than their 29" counterparts. They accelerate fast and corner well, with their shorter wheelbase giving the bike a nimble feel. The 27.5" Specialized Rockhopper is only available in sizes XS-M, with it being recommended that taller riders opt for the larger 29" wheels.
Rockhopper 29"
Ideal for taller riders and for those looking to push their XC boundaries, 29" wheels offer a higher top speed and are often seen as faster than 27.5" bikes. Their larger diameter copes better with rough terrain, offering a smoother ride and allowing you to carry increased speed over rocks and roots. This comes at the sake of maneuverability, with the larger wheels requiring a little more heft in the corners and being less responsive. The 29" Specialized Rockhopper is only available in sizes M-XXL, with shorter riders being more suited to the 27.5" version.