A heart of gold, presented in a lightweight yet durable Premium A1 Aluminum, the Specialized Rockhopper features butted aluminum tubes in order to keep weight low and strength high, all while providing increased standover clearance, slick internal cable routing and dropper-post compatibility. With the goal of making sure that the Rockhopper offers both the best fit and best performance for every person, no matter their measure, each Rockhopper frame size is paired with the optimal wheel size. The result is a Rockhopper to fit every rider and the assurance that every Rockhopper is rolling on the best-handling wheel for its frame size.
The Rockhopper has been the most popular bike of 2020, and as such stock is very hard to come by! Most models and colours are pre sold before they even land in Australia, so please call us to discuss what will be available in the next shipment. Below you will only see the models with stock available in store now, so if there are no bikes showing then we are currently sold out! Please call to discuss forward orders.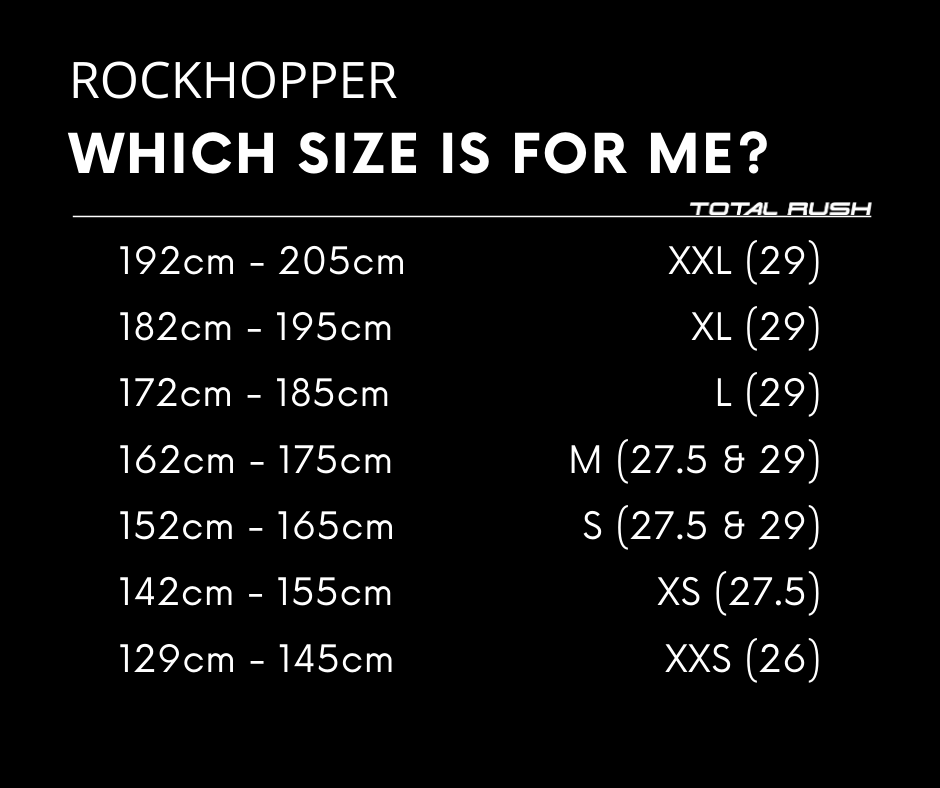 Which wheel size is for you? 
26" Wheels
Only available in XXS, this is for the young ones that are ready to shred on a bigger bike than the traditional "kid's" bike sizes go to. 
27.5" Wheels
Perfect for shorter riders and those looking for a lively ride, 27.5" wheels are more maneuverable than their 29" counterparts. They accelerate fast and corner well, with their shorter wheelbase giving the bike a nimble feel. The 27.5" Rockhopper is only available in sizes XS-M, with it being recommended that taller riders opt for the larger 29" wheels.
29" Wheels
Ideal for taller riders and for those looking to push their XC boundaries, 29" wheels offer a higher top speed and are often seen as faster than 27.5" bikes. Their larger diameter copes better with rough terrain, offering a smoother ride and allowing you to carry increased speed over rocks and roots. This comes at the sake of maneuverability, with the larger wheels requiring a little more heft in the corners and being less responsive. The 29" Rockhopper is only available in sizes M-XXL, with shorter riders being more suited to the 27.5" version.